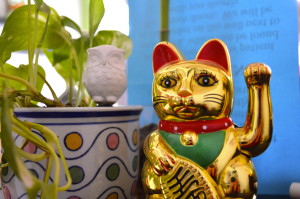 "You should sit in quiet contemplation twenty minutes a day, and if you can't sit for twenty minutes, then you should sit for an hour." – Zen proverb
Join us on the first Tuesday of each month at 7:00pm for meditation class with Buddhist nun Kelsang Jindak of the Vajrapani Kadampa Buddhist Center.

In our modern and busy lives stress, depression, and anxiety are common problems. We work so hard to find relief, but many of the things we try are only temporary fixes and we find ourselves getting frustrated and discouraged.

Learn simple meditations to relieve stress and awaken your loving-kindness, patient acceptance, and joy. Class will be taught by Buddhist nun Kelsang Jindak of the Vajrapani Kadampa Buddhist Center in Orlando. Each session includes a guided meditation and a short teaching relevant to daily life.
Everyone is welcome. $5-10 suggested donation.
For additional information about class time or location, please email the clinic at delandcomacu@gmail.com or call 386-626-1944.
For additional information about the class content, meditation, or Buddhism, please email vajrapani@meditationinorlando.org
It's important to take time out of your busy schedule to take care of yourself.  Studies have show that meditation reduces anxiety, stress, fear, and depression.  It enhances self-esteem, and improves optimism and emotional intelligence.  Meditation strengthens the immune system, and reduces blood pressure and inflammation.
Meditation has a long history, with written record stemming back thousands of years.  More recently, scientific studies have been done showing the meditation actually regrows gray matter.
We love acupuncture because it allows us to sit quietly for an hour, not thinking about our worries, peacefully relaxing.  But unfortunately, we can't get acupuncture every day.  We should, however, sit quietly every day.
Despite the common misconceptions, it's actually easier to learn how to meditate than many people believe.  Find additional information about meditation on our Self-Care page.
Tentative Dates for 2017: (Please check dates closer to event to be sure class has not been moved or canceled.)
June 6

July 4 ***We will NOT be having class this month due to the first Tuesday falling on Independence Day.***

August 1

September 5

October 10

November 7

December 5
Save
Save
Save
Save
Save